The Online Booking System can be used to place delivery orders ONLY.  Your event date must be taking place anytime before or within the next 3 Days.  
** Please CALL if you're attempting to book a date that is less than (3) days out OR  needing to schedule a self-pickup order.   Thanks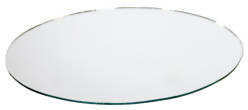 Glass Mirror
Glass mirrors
add a decadent look to the decor of any style event. The reflection of centerpieces and/or candles will bring an unexpected delight to your event's decor. Give it a try!