Carnival & Party Game Rentals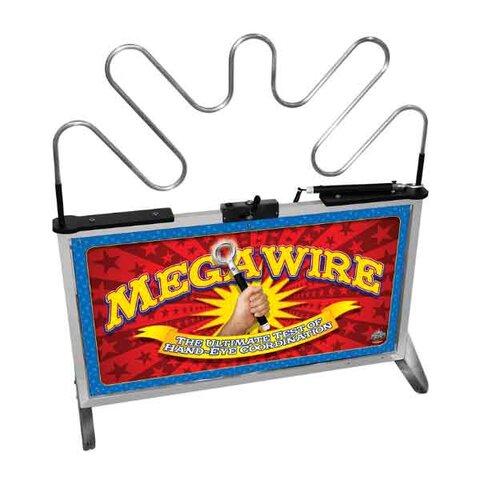 Mega Wire
Actual Size: 48" x 6" x 48"
Outlets: 0




Our Carnival Game Megawire is the ultimate test of patience, hand-eye coordination, and steadiness. Think of it like Operation, but carnival-sized: At your next event, your guests will need to move a ring from one end of a squiggly 12-foot metal wire to the opposite end without ever touching the ring to the wire. Megawire might sound easy, but keeping a steady hand, moving slowly, and constantly maintaining a proper distance between the ring and the wire is a huge challenge that your guests will relish!

Weight: (45 lbs)

Patience is a virtue with the carnival game Megawire. That's just one of many reasons why it's the perfect carnival game rental for your next corporate event.

When you rent Carnival Game Megawire, you give your co-workers, employees, and other event attendees something to flock to. The quirky shape of the wire will intrigue many of your guests, who will them come over to see what this weird machine could possibly be. When they learn it's a game, they'll likely think it'll be a piece of cake to play. They're in for a fun surprise.

Megawire, it turns out, is a formidable challenge. Just like in the classic board game Operation, gameplay involves ample patience, hand-eye coordination, and hand and arm stability. Unlike Operation, though, this carnival game is a full four feet by four feet in size, so your guests will need to be that much more patient, coordinated, stable, and strong to win. Touch the sides, and a red light and a buzzer go off! As they realize they're in for a bigger challenge than expected, they'll want to play over and over again until they win.

This carnival game is a natural crowd builder, making it great for not just your next carnival event, but holiday parties, product activations, and trade show booths too. The rechargeable Megawire makes it easy to place anywhere. Hand out prizes for winning, or let your carnival attendees simply walk off with the bragging rights. Its minimal size makes it especially apt for events in smaller spaces. No matter where you use this game, it's bound to pair well with other carnival games and so many other game rental options!
PATIENCE IS KEY: Patience is of the utmost importance in Megawire, but it's not the only skill that guests at your next corporate event will need. Hand-eye coordination, hand and arm steadiness, and strength are also key.
UNEXPECTED CHALLENGE: At first glance, this game appears pretty easy. How hard could it be to guide a ring from one end of an oddly shaped metal wire to the other? But when your attendees step up to play this game, they'll discover that this game is way harder than it looks.
REPEATED TEMPTATION: Since this game is such an unexpected challenge, people who step up to play it will undoubtedly want to play over and over until they win. As they take more turns, other people will gather around and wonder how this game could possibly be so intriguing, so this game subtly builds crowds.
GET THE PEOPLE GOING: Use this carnival game to entertain people and draw crowds at your company's next holiday party, product activation, carnival event, or trade show booth. In each of these settings, you can count on Megawire to get the people going.
COMPACT COWABUNGA: This game only occupies eight square feet of floor space to bring the fun to your next event, and at four feet tall, it's unobtrusive in every direction. You can even collapse it to two feet high and move it out of the way if you need to save on space. Plus, the rechargeable battery makes it easy to place anywhere.