Dinnerware for Rent
Orlando Fun Party is more than just a place to rent bounce houses. We also have dinnerware for rent as well. When you are planning a formal event or a sit-down dinner, you have to think of every detail right down to the silverware. We have plates for rent, glasses for rent, and more! We can help you with weddings, formal events, corporate parties, sit down dinners, and more. Our dinnerware rentals are always delivered to you clean and in perfect condition. We know you don't have time to inspect every piece; that's why we do it for you!
Dinnerware Rentals:
• Glass Plates
• Silverware
• Goblet Glassware
• Champagne Glass
• Wine Glass
• Dinner Napkins
• Beverage Dispenser
• Food Warmer
• Round Cake Stand
• Crystal Cake Stand
Our clean and beautiful dinnerware will give your event a classic and elegant look. Orlando Fun Party Rentals is a well-known family owned and operated company so you can trust that you are in good hands when you choose us for your party rentals.
Orlando Fun Party Rentals is located in Orlando, FL, and we service the surrounding areas. Travel fees may apply, so contact us for more information to set your rentals. Contact us today!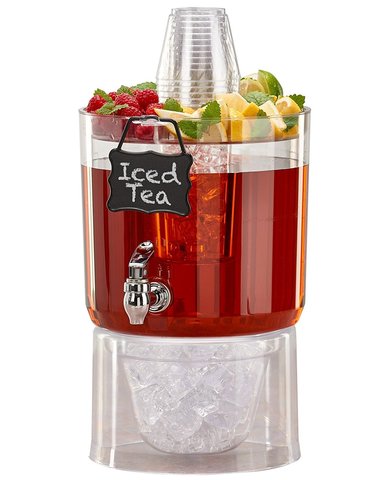 Beverage Dispenser
Serve cold beverages with style at any occasion. Holds 1.75 Gallons.
Includes: A compartmentalized base that can be used for additional chilling or separately as an ice bucket, ice cone to keep beverage chilled, cup holder and chalk sticker.
Also utilize the unique top for fruit and/or sweetener and cups for ease of serving.
Chalk/fruit/cups are NOT included.